our solutions
Satellite based communication
overview
What is Temix Communications solution?
Temix Communications is an innovative company with more than two decades of experience in the engineering, design and manufacturing of satellite and wireless communication systems as well as telecommunication platforms and solutions for the broadcast and data markets.
Arubaito has been appointed as a Partner for TEMIX Italy deals in Satellite based Solutions.
We are providing services for Broadcasting, Home Land Security, Defence Solution, Industrial and Smart Solutions.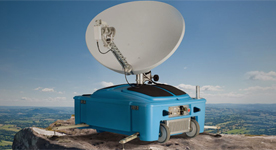 EASYFLYSAT TERMINAL
EasyFLYSAT is a compact "All-in-one" portable terminal that includes all the features of a fly-away antenna system together with different radio communication systems capable to deliver high Data Rate transmissions disengaged from weather conditions and environmental complexity in order to meet any of the customer needs anytime and anywhere.
The system combines easy-one-person operation with exceptional technical performances allowing fast and secure deployment even in the hardest scenarios: easy NO-TOOLS deployment. More Info
EASYLINK TERMINAL
EasyLINK is a terrestrial wireless communication platform designed to transmit voice, video and data over IP through two or more units which can be fixed, nomadic or on the move.The units are ultra-transportable (lightweight and easy to carry), installation and configuration can be done from remote, or locally via Ethernet cable or wireless, and the datarate reach is up to 20Mbps.
The units function in LineOfSite/NonLineOfSite (LoS/NLoS) and depending to the datarate transmitted and the distance are capable to transmit up to 20Mbps within 50km of reach in LoS and up to 4Mbps within 3-4km in NLoS. More Info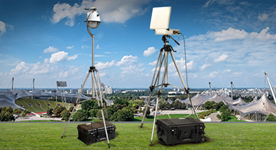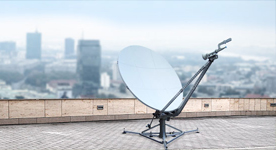 FLYAWAY ANTENNA SYSTEMS
Temix Communications Quad-band C/X/Ku/Ka Flyaway antennas, suitable for broadcast, military and government organizations, have been designed around four main concepts: accuracy and performance of the reflector, robustness of reflector, tripod and overall structure, lightweight and easy no-tools  installation.
Made with Carbon Fiber reflector and aluminum tripod mount, this guarantees extremely high performance of the flyaway combined with high reliability and unchanged performances in the time also in hard environmental conditions. More Info
EARTH STATION ANTENNA
Temix Communications earth station antennas take advantage of an uninterrupted R&D in antenna design and manufacturing processes following the evolution of the satellites and related requirements in terms of frequency bands. State of the art design, manufacturing (100% made in Italy) and care of the details currently position Temix Communications  at better quality standards.
A full set of accessories are available to complete each antenna system starting from Foundation kits and anchors to De-Icing system, Dehydrator system, Lightning system and obstruction lights, Environmental Center-Hub, and more. More Info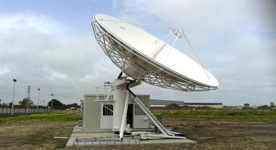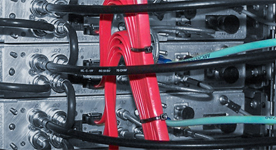 EQUIPMENT
Temix, focused into provide turn-key systems, designs and manufactures standard and customized satellite communication equipments suitable for both Fixed Stations and Transportable Systems.
Temix comes with a complete product line including Block Up-Converters, Block Down-Converters, TLT, Beacon Receivers, Redundant Switchover Units, Solid State Power Amplifiers, Switching Matrix, Audio/Video Products (Encoders MPEG2 & MPEG4 H.264 SD/HD), DVB-S/S2 L-band Modulators, Uplink Power Control, Antenna Control Units and many more. More Info
Solutions
Comprehensive Temix Communication solutions include
Broadcast

We propose a comprehensive mix of technologies aimed to enable broadcasters to deliver video and multimedia contents, transforming the way news and live events are reported in the field.

Border Security

Border Security System enables governmental authorities to keep under control vast areas of the country lands and coastal borders, in a modular and scale-able way.


Public Safety

The public safety solution allows police and special forces to communicate safely and control urban areas in a reliable, scale-able and effective way.

Civil Protection

The Civil Protection proposition permits communications and exchange of video and voice among men on the field and decision makers independently from the terrestrial lines.

Oil Rigs

Those locations terrestrial lines might not be available, we can connect those remote locations with their Headquarters with a reliable, cost effective and independent way. 

Mining Sites

The solutions are based on data collection and transport delivery to/from any locations, based on TDM/TDMA or SCPC VSAT networks, enabling date to locations which are not reachable via standard network.

Energy & Water Metering

Using a mix of Technologies, we are able to design, develop and support scale-able platforms that can enable us to gather information from thousands (or even millions) of devices.

Traffic Monitoring

It is now possible to create a complete ecosystem of lighting management, traffic monitoring and control, intelligent parking,  environmental management and monitoring, and many more.

Smart City Automation

Solutions and management of communication devices, systems and platforms based on "Smart" innovative technologies for data gathering purposes in large/capillary networks.
Services
Arubaito is appointed as an Exclusive Partner of Temix Communication
Arubaito with the knowledge and experienced technical resources is able to provide satellite based solution related services as below:
System Integration
Engineering and Commissioning
Training and Technical Support
Turnkey Project Management
Maintenance and After Sales Support
Warranty Support