our solutions
Airbus TETRA solution
overview
What is Airbus TETRA solution?
TETRA is one of the leading standards in digital radio, an abbreviation of Terrestrial Trunked Radio. It has been defined and approved by the European Telecommunications Standards Institute (ETSI) to be the official European Standard for digital Professional Mobile Radio (PMR). TETRA offers both the usual cellular services as well as professional radio services such as group communication, field workforce management services (dispatching) and efficient data services.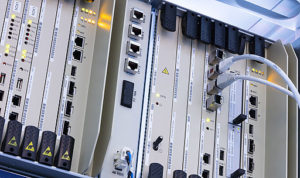 PROFESSIONAL RADIO COMMUNICATIONS
TETRA is a unique combination of group voice communications, mobile telephony and mobile data services specifically designed for authority use. TETRA is a purpose built technology that offers public safety and security organisations major advantages over conventional radio systems to.
It was developed to meet the needs of the most demanding professional radio users who need fast one-to-one and one-to-many radio communication using voice and data in their daily work.TETRA fulfils the needs of professional users and replaces old analogue and proprietary radio communication systems that no longer meet professional radio communication needs.
TETRA ADVANTAGES
Instant call connection and push to talk operation to set up a call is probably one of the most important features in TETRA. In TETRA, a call is initiated with a push to talk button and connection is established in less than half a second. In addition, there is no need to answer the call – the calling party can start talking right away.
Another differentiating feature between TETRA and cellular services is group communication. In addition to individual calls, TETRA also supports group calls. The members of the groups are predefined and a group may consist of tens or even hundreds of members. With dynamic group number assignment and priority scanning, the terminal won't miss important calls.
Direct mode operation (DMO) is a special operating mode in a TETRA terminal, in which TETRA radios can communicate directly with each other without the TETRA network. DMO enables communication in areas where network coverage is not available, for example in the basement of a building, where radio waves cannot propagate.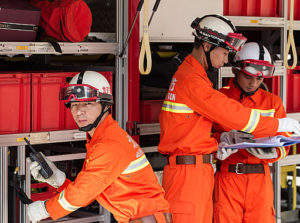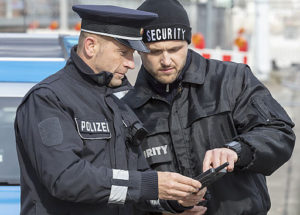 TETRA APPLICATIONS
Typical TETRA users are public safety and security organisations such as police, fire and rescue forces.
TETRA can maintain effective radio communications in even the most extreme situations. Where other communications networks may fail, TETRA's fault-tolerant design can survive the failure of individual network components, and continue to provide an unbroken service.
In disasters, people's natural reaction is to call their relatives and friends. Public telephony and cellular services can become choked quickly. However, TETRA has built-in priority mechanisms that can be set up in advance to maintain communication between critical rescue units.
Solutions
Comprehensive Airbus TETRA solutions include
Services
Arubaito is Airbus Value Added Reseller.
Arubaito with the knowledge and experienced technical resources is able to provide TETRA related services as below:
System Planning and Design Services
System Integration
Engineering and Commissioning
Training and Technical Support
Turnkey Project Management
Maintenance and After Sales Support
Drive Test
Warranty Support